| | | |
| --- | --- | --- |
| ''How to Sketch Fashion The Easy Way! Discover How To Get Paid $1,000 p/week as a Professional Fashion Designer...'' | | |
If you would like to Develop Your Fashion Sketching Skills - You Have Come to The Right Place - Learn The Secrets to Sketching Fashion Quickly and Professionally!
Learn How to Sketch Fashion Design- Quickly and Easily Using These Sketch Templates!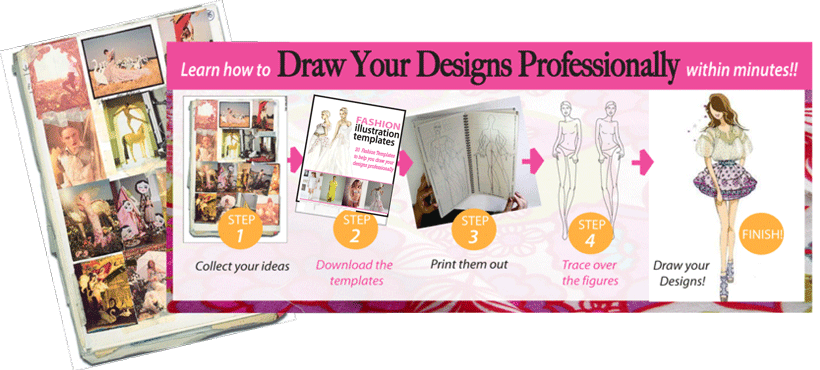 Discover How You Can Become a Pro at Sketching Fashion Designs and Achieve Your Ultimate Dream of Becoming a Professional Fashion Designer !!

Sketch Your Fashion Designs like a Pro!!

Develop Your Fashion Design Portfolio- Ready For College

Turn Your Fashion Ideas into Amazing Designs!

Get the Fashion Design Job You Have Always Dreamt Of!

The Fashion Sketching Templates that make it Easy!!

Learn How to Draw Your Design Ideas on Figures!
STOP!! Are Your Sketching Skills Holding You Back From Getting into Fashion School??
Many Fashion Schools require you to submit a portfolio of your designs in order for you to get accepted into their program! This is a big problem if you have the ideas, but dont know how to draw them properly! Well this ebook is here to help you refine your skills and draw your designs professionally- so you can develop that Killer Fashion Portfolio!
Use These Templates to Learn How to Sketch Your Fashion Designs Professionally!
Yes if you have the ideas- but cant sketch to save yourself- this ebook is for you! Filled with many Fashion Templates that can help you sketch your fashion design ideas Like a Pro! We can teach you the tricks to the trade that will sharpen your sketching skills fast!
Yes! You Could Be The Next Successful Fashion Designer!
It doesn't matter how old you are, or what country or city you live in! It's never to early or too late to start your fashion designing career! If its your sketching skills that are holding you back- dont fret!! Help is on its way!! It's a shame for you not to make good money in this industry- when you have all the talent and ideas within you already- You just need to know how to sketch those ideas!
Yes! Fashion Designers Get Paid $50-$100k A Year..
Yes its True! Fashion Designers are paid up to $100k a year. Why? Because it is hard to find good fashion talent out there. After-all, you are designing clothes for thousands of people to wear! Dont let your sketching skills hold you back from getting that high paying fashion job!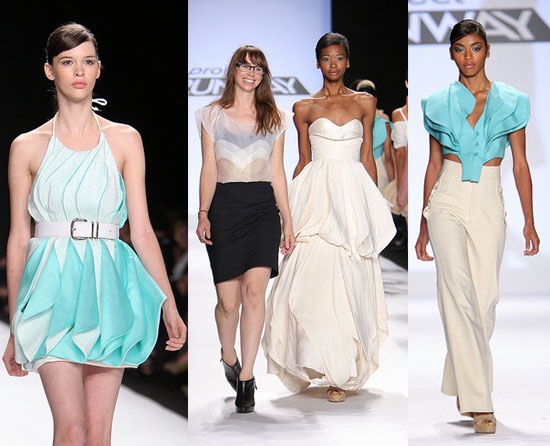 You Are Born To Be A Fashion Designer If....
You spend your weekends at the mall/ shopping centre- you just LOVE fashion!

You have 'Passion' for your 'Fashion'

You have attention to detail

You are easily inspired and like being around creative and inspiring people

You have loads of ideas for clothes and accessories

You absolutely LOVE the new season trends and cant wait to get your hands on the latest new looks!
Dont Let Your Fashion Sketching Skills Hold You Back From Achieving Your Dreams!!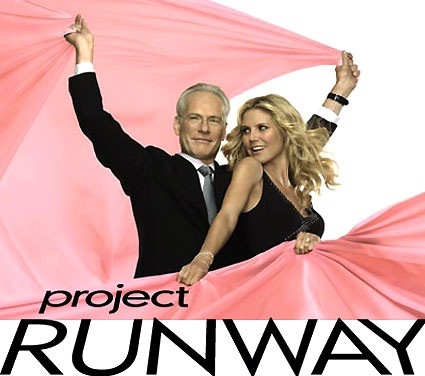 In The Fashion Industry Its Not How Good Your Sketching Skills Are- Its How Good Your Ideas Are!!
Annette Corrie- Director - La Mode College of Creative Industries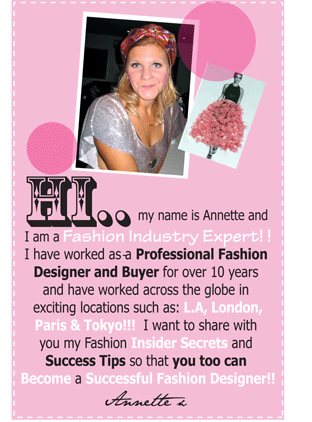 "With over 10 years experience in the fashion industry, I have worked as a Fashion Designer and Ladies-wear buyer

and

I get to travel overseas 3 times a year

to

Tokyo, London, Paris, Hong Kong, Sydney and L.A.
As a Professional Fashion Designer I developed a skill to be able to predict what was going to be in fashion next, and what was going to sell! Fashion isn't about how good you can draw or sketch, or how good you can sew a garment. Fashion Design is all about knowing what people want to wear and developing a garment that will sell at the right price to your customer!
Here are My Top 5 Tips for Getting Into The Fashion Industry:
1. Have Passion (for fashion)
2. Have Knowledge of new trends and emerging labels (know your competition)
3. Know what sells and what customers want to wear…
4. Be Prepared to do what it takes and work your way up
5. Know how the fashion industry and retail industry works.
I have put a fashion course together from my experience as a successful fashion designer to help fashionistas like yourself get into the industry and start their careers.. and get those drawing skills up high enough to convey your great ideas!
The Words 'Cannot' Or 'Impossible' Do Not Exist!
If You Cant Sketch- Don't Fret! Fashion Sketching Can Be Taught! There are Many Tricks to the Trade!This E-book Manual Will Show You How!
It took me quite a few years to collate everything I have learned from the Fashion Industry- from trend research to product design- through to production....then getting your designs on the shop floor.
I have now put all of that information, into a very easy to follow steps. (I just wish that a detailed instructions like this was available when i first started out!- It would have saved me 3 years of full time study!)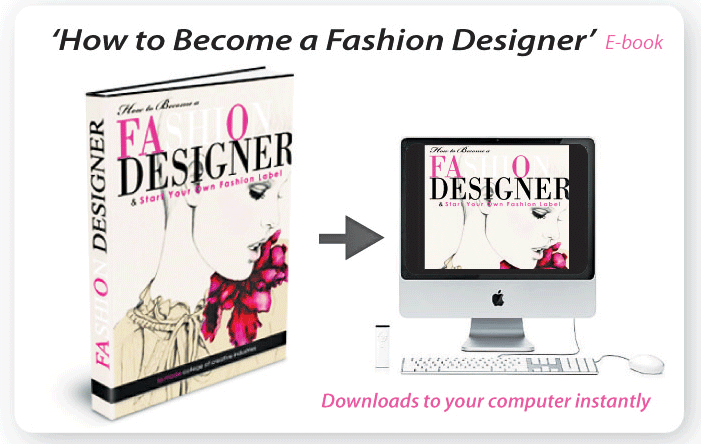 'How To Become A Professional Fashion Designer E-book' Can Be Downloaded To Your Computer Instantly And Viewed At Your Own Leisure At Anytime.'
I Want You To Be Successful! So Here is some FREE BONUSES:

Fashion Design Sketch Templates- Become A Professional Fashion Designer- Order Your Copy Here...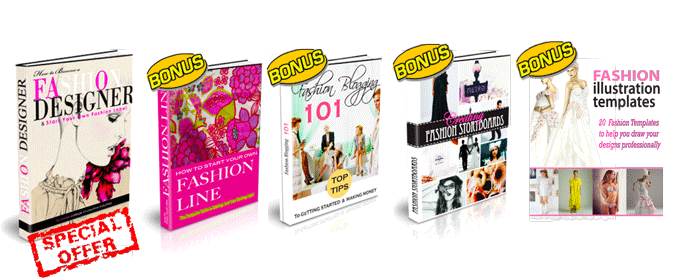 Get Started NOW! - Only $47.00
CLICK HERE TO PURCHASE

100% Money Back Guarantee!
You should have absolutely no risk in ordering this manual- thats why we offer your 100% guarantee for 60 days. Simply Download it, and in the unlikely event you dont absolutely love it- you can return it for a full refund.
''This is the Best Place To Start When Considering to Be a Fashion Designer...''
"What a great fashion manual- ebook! '' I Loved the Fashion Exercises at the end of Every Chapter- it really got me thinking, and developed my skills- plus I can use them for job interviews! I would Highly recommend this fashion manual to anyone interested in learning the ins and outs of the fashion design world!

Kristie Trimm

-

USA.
''I Would Recommend This Manual To Anyone!''
As a fashion enthusiast, I have been following fashion trends and this course really helped me to understand the differences between them. I would highly recommend this book to anyone who is thinking about taking a career in fashion, as well as those who wanted to get a job in the fashion industry.''

Bernadette Guadiz

- USA.
''This Book Has Allowed Me To Sell My Designs On-Line!''
The outcome of reading this manual is that I am now selling my designs at the local markets, and have recently started my own on-line store selling my creations!'' Jazmine- UK.
100% Money Back Guarantee! I Want To Help You By Making It Affordable To Become A Fashion Designer.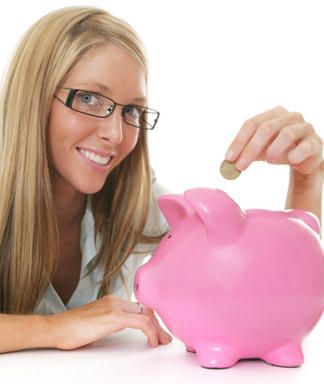 Even if you did have the money to pay thousands to Study Fashion at College, It makes sense that before you register into a Fashion School, that you learn everything you need to know for a fraction of the Cost!! That way you wont be wasting thousands on college fees, and you'll save your parents thousands too!! (Maybe you could get them to invest the college fees you'll save into your first collection?!!!)
There Are LIMITED Copies Available- Due To CRAZY PRICING- ONLY $47.00!!
Because I am providing exceptional value for money, and Im practically giving away professional design secrets for nothing, I wont be selling this book to anyone and everyone. I dont want too many people to get this info, otherwise there will be more competition for everyone- I dont want you to be competing for jobs with 10 other people who have read this same book!! (I want to give YOU the advantage!! ) ( If you're serious about becoming a designer and want to be one of the SELECT few that have access to such PRIVILEDGED 'Fashion Design Secrets', don't hold back- get your copy now, before too many more people come across this site and beat you too it!
ORDER YOUR COPY NOW-

To Get This

Free

'Fashion Drawing Templates E- Book' So That You Can Draw Your Designs Professionally!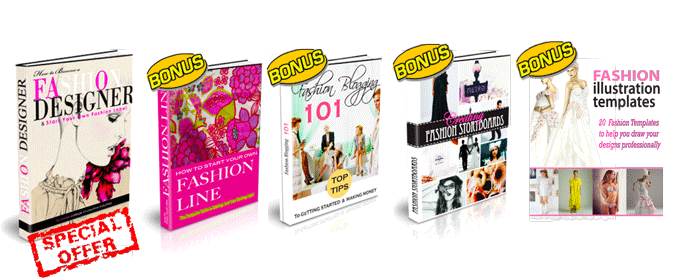 Get Started NOW! - Only $47.00
CLICK HERE TO PURCHASE

NOTE: We use ClickBank and Paypal services to process all orders. ClickBank and Paypal utilizes the strongest security and anti-fraud features available on the Internet and never stores your financial data on their system! They are approved by the Better Business Bureau.
Are You Afraid That You'll Never Find a Job That You Truely Love And That You Are Passionate About?
Sketch Your Designs within Minutes- Nail a Fashion Job!
Here Are Some More Reasons To Order This Fashion Manual...
There is a job out there that you can get paid to design Clothes. And yes you don't have to go to College or university for it. Actually most fashion designers haven't even studied fashion, or have a degree!

What makes us unique is that this course is written by a REAL fashion designer who successful had her designs in Department stores around the country.

Real Fashion Industry Secrets that the professionals don't want you to know about!

the MUST KNOW know things that a fashion designer needs to be successful

How to design a Successful Range.

What magazines you MUST read for the latest fashion goss and trends!

You can learn how to be a fashion designer from your own home! No boring classes to attend. You can fit in your study at your own pace.

No assignments to hand in. Only relevant information.

No high college fees, or College dept to pay off!

Tax deductable

STUDY at HOME in Your own time. There are no physical classes to attend.
More From Others Who Have Read This Fashion Manual-E-book: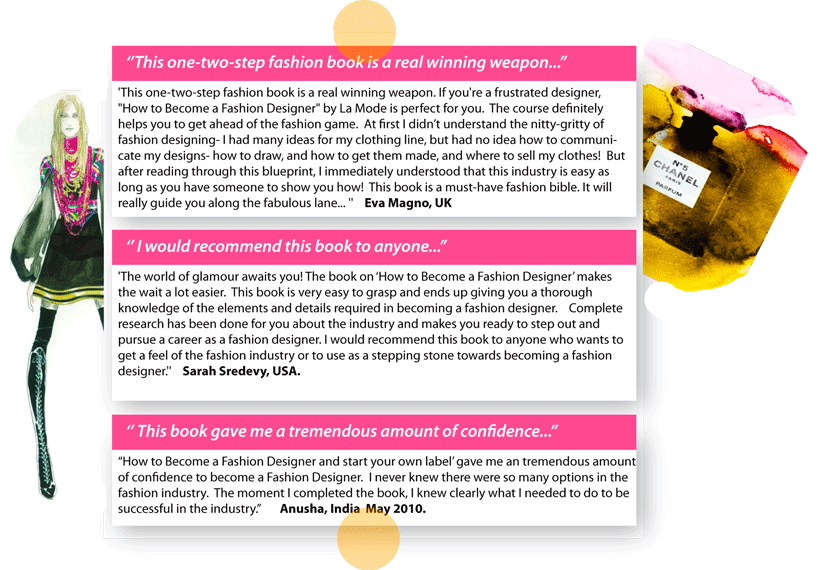 Yes You Can Become a Fashion Designer! All You Need Is Someone In Your Corner ... To Guide You Step-By-Step!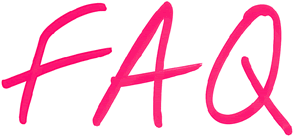 Q 1: IS THIS A FASHION MANUAL OR A BOOK?
A. Well, its actually an electronic version of a manual, also called an E-book. The content in this Ebook is so comprehensive, that it could be referred to as a course. There is even activities in this ebook that are similar to activities that a fashion course would include. So think of it as having the opportunity to get 'fashion course' content , jammed into a Fast-Track Fashion E-book. You dont need to spend thousands of dollars or years of sitting through classes at a Fashion School to learn the ins and outs of the industry- you can learn everything to get started right here and now!
Q 2: WHAT'S AN E-BOOK?
A. An E-book is an electronic version of a paper book or manual. The advantage is that it can be downloaded straight to your computer, laptop or IPad, and can be viewed at any time. It is a special digital format that allows easy reading, and you can save it to your computer so you can refer back to it at anytime.
An Ebook saves you time waiting for delivery in the post, and it also helps save the environment, by reducing the amount of paper used. Of Course if you need to print out the e-book for any reason, you can easily do this by printing it out on your own home printer with a touch of a button
Q 3: HOW LARGE IS THE E-BOOK?
A. The Fashion Design Manual E-book is A4 in size, and 65 pages in length. The Bonus Ebooks range from 15-40 pages each in length. The Ebook is in Full-Colour and Includes Pictures, Graphics and Examples. The E-book is in PDF file format, ready for instant download to your computer.
Q 4: ARE THERE ANY ASSIGNMENTS TO DO?
A. Whilst there isn't assignments to do as such, there are fun and exciting activities at the end of each section of the E-book Manual to test your knowledge of the fashion industry, and help you build a portfolio of examples of your work that can help you be successful in a job interview.
Q 5: WHAT IF I HAVE QUESTIONS AFTER I HAVE DOWNLOADED AND PAID FOR THE EBOOK?
A. You are very welcome to ask as many questions about the Ebook content and the Bonuses as you like. You can drop us an email at: info@becomeafashionbuyer.com. I am happy to help you in anyway I can to be successful in your new career!
I Want You To Love This Fashion Manual E- Book and Templates!
Remember- You should have absolutely no risk in ordering this manual- thats why we offer your 100% guarantee for 60 days. Simply Download it, and If you don't find it helpful to you- you can return it for a full refund. Of course I would value your feedback - so that I can make this fashion manual even better!
Imagine How Jealous Your Friends Will Be When You Start to Become a Real Fashion Designer! ORDER NOW BEFORE YOU MISS OUT!!
HERE IS YOUR FINAL CHANCE TO ORDER: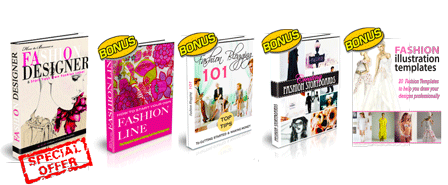 Get Started NOW! - Only $47.00
CLICK HERE TO PURCHASE
Pay with Pay Pal
'You need to have creative vision and the desire to succeed' Coco Chanel
For Further enquiries, Please contact me at: info@becomeafashionbuyer.com
Home | Disclaimer | Contact Us | Privacy Policy| Affiliates Blog | How to Draw Fashion | Fashion Design Sketching | Fashion Design Book | Fashion Design Course Online | fashion Design Online| Fashion Design Drawing Course | Fashion Design Drawing | How to Sketch For Fashion Design | Drawing Fashion Design| Fashion Design Portfolio | Figure Drawing For Fashion Design | Draw Fashion| Fashion Design Courses | SKetches for Fashion | Fashion Designer Templates | Drawing the Fashion Figure| Clothing Design Templates | Fashion Design Sketch Template | Fashion Designer |Fashion Design Sketches | Fashion Buyer Education | How to Become a Fashion Buyer | Fashion Buyer Courses | Fashion Buyer Course | Fashion Buyer Programs | Fashion Buyer Schools| Fashion Buyer Training | How Do I Become a Fashion Buyer | Fashion Affiliate Programs |